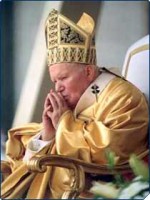 In November 2003 Pope John Paul II (left) formally appointed His Eminence Mario Francesco, Cardinal Pompedda, as his Ecclesiastical Counsellor to the Constantinian Order under the grandmastership of HRH Prince Ferdinando of Bourbon Two Sicilies, Duke of Castro. This was a significant act of formal recognition between the Holy Father and the Order.


In confirming the appointment, His Eminence Angelo, Cardinal Sodano, Secretary of State of the Vatican City State (right) stated in a letter to Cardinal Pompedda, "On numerous occasions, Your Eminence has spoken to His Holiness Pope John Paul II of the need to provide greater spiritual assistance to those members of the Constantinian Order of Saint George for whom You have agreed to act as Grand Prior, by designation of Prince Don Ferdinando Maria of Bourbon Two Sicilies.
"I have now been requested to inform You that the Holy Father, out of pastoral solicitude, has appointed Your Eminence, for a term of five years, as Ecclesiastical Counsellor of the Deputation of the Constantinian Order that recognises Prince Don Ferdinando Maria of Bourbon Two Sicilies as its Grand Master."
"For my part, I shall gladly beseech the Lord to bestow abundant blessings upon Your endeavour to promote an ever more intense Christian culture among those who will benefit by Your ministry, under the banner of the Constantinian Knights' ancient tradition of fidelity to the Church.


"A copy of this letter has been sent by me, on this day, to Prince Don Ferdinando Maria of Bourbon Two Sicilies to inform him of this and to extend most cordial greetings to him. I take this opportunity to assure You of my highest regard. Yours devotedly in Christ + A. Card. Sodano, Secretary of State".